Why is sport injury prevention important?
Short-term impacts of MSK injury include:
reduced activity
missed school and/or work days
pain
anxiety or depression
loss of social identity
Long-term impacts of MSK injury include:
inactivity
increased risk of obesity
increased risk of osteoarthritis
There is high quality scientific evidence showing that injury prevention programs can significantly reduce the risk of injuries from sport participation.
Injury prevention programs are effective at reducing lower extremity injury risk by 30 – 50%.
---
Our injury prevention presentations
BSMF runs FREE Injury Prevention Presentations for community members, local coaches and healthcare providers, athletes of all levels, and participants in high-risk activities.
By educating the community and participants in high-risk sports and activities, the overall goal of our programs is to encourage our community to be active while at the same time reducing primary and secondary injuries.
Injury Prevention Topics
How to avoid common knee and rotator cuff injuries while working out
Managing an injured athlete post-ACL reconstruction
---
Download our Knee Injury Prevention Poster here.
Download our Knee Injury Prevention Exercises brochure here.
Download our Knee Injury Prevention Exercises for Skiers brochure here.
---
Hear what participants are saying…
"Answered questions I didn't even know I had!! :)"

Anon
"Cool session with great tips!"

Anon
"Awesome to know what / how from experts."

Martina V.
"Informative & fun"

Guy S.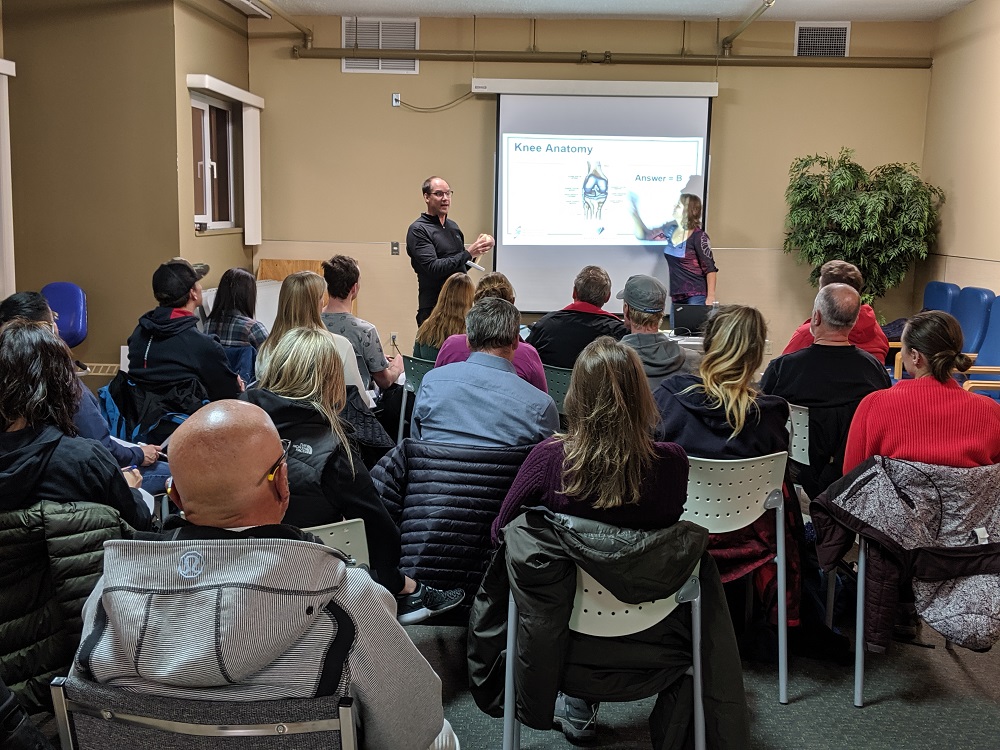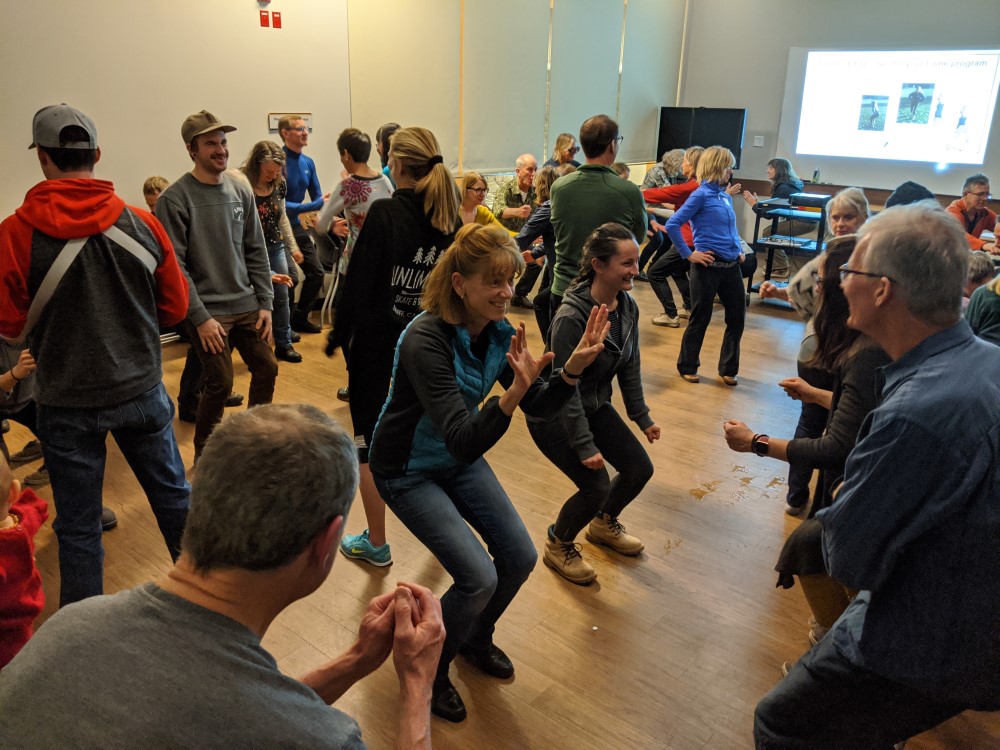 ---
Participation in sport & recreation has important implications to our health, but it comes with a higher risk of musculoskeletal (MSK) injury.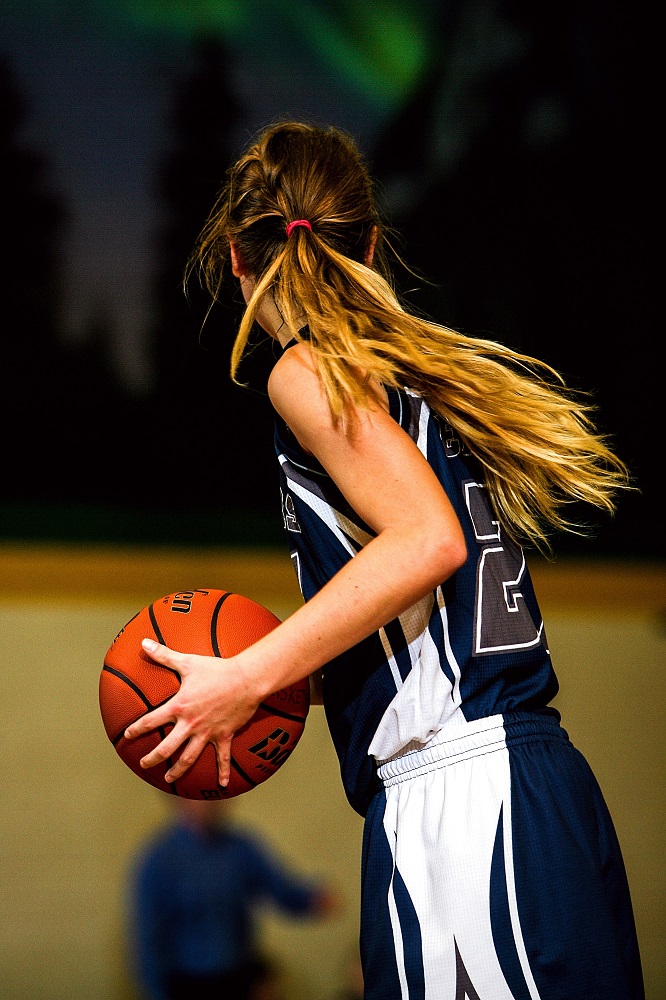 Sport participation is the leading cause of MSK injury, with lower extremity injuries to the ankle and knee being the most common.
Preliminary statistics gathered from the Banff Sport Medicine (BSM) surveillance records, as well as a review of research in this field, reveals that in our local community, participation in gymnastics, as well as pivoting sports such as skiing, soccer, and basketball, puts athletes at high-risk for knee injury, particularly ligament sprains, meniscal tears or a torn anterior cruciate ligament (ACL).
The BSM Clinic assesses over 1500 acute knee injuries from our local communities each year, with 1/3 of injuries occurring in youth aged 5 to 21.
Thus, injury prevention is an essential part of our Mission to advance MSK health.
---
Other great resources
---
FIFA 11+
A complete warm-up program aimed at reducing injury among football players. The manual provides instructions for coaches on how to perform each exercise with clear illustrations on correct and incorrect form. The manual is free to download online.
The warm-up program has been compiled into a video series by Ontario Soccer with support from the Ontario Trillium Foundation, the Canadian Orthopedic Foundation, Ontario Soccer, and Bone and Joint Canada.
---
Focused on preventing traumatic and overuse injury in sport and provides resources for athletes, parents and coaches.
---
A good resource for coaches and health care professionals. Presents injury prevention research and training modules for injury prevention such as concussion screens, warm-ups etc.
---
Get Set – Train Smarter app
Get Set – Train Smarter is a free app for iPhone and Android that was created to coincide with the 2014 and 2016 Youth Olympic Games in Nanjing, China and in Lillehammer, Norway respectively. It was developed through a collaboration with the International Olympic Committee, the Oslo Sports Trauma Research Center, Making Waves AS, and several international sports federations.
It comprises sport and anatomy specific exercises to decrease the risk of injury.
---
INJURY-FREE
INJURY-FREE is part of the Norwegian Centre for Sports Injury Research, established at the Norwegian Sports Academy in 2000. This website has comprehensive exercise programs and demonstrations to reduce the risk of injury. Exercise programs can be searched by sport or body part, and each program has three levels of difficulty.
---
Injury Prevention Research Publications
Arundale, Amelia JH, et al. "Exercise-Based Knee and Anterior Cruciate Ligament Injury Prevention: Clinical Practice Guidelines Linked to the International Classification of Functioning, Disability and Health From the Academy of Orthopaedic Physical Therapy and the American Academy of Sports Physical Therapy." Journal of Orthopaedic & Sports Physical Therapy 48.9 (2018): A1-A42.
Al Attar, Wesam Saleh A., and Mansour Abdullah Alshehri. "A meta‐analysis of meta‐analyses of the effectiveness of FIFA injury prevention programs in soccer." Scandinavian Journal of Medicine & Science in Sports (2019).
Emery CA, Pasanen K. Current trends in sport injury prevention. Best Practice & Research Clinical Rheumatology. 2019;33(1):3-15.
Rössler R, Donath L, Verhagen E, Junge A, Schweizer T, Faude O. Exercise-Based Injury Prevention in Child and Adolescent Sport: A Systematic Review and Meta-Analysis. Sports Medicine. 2014;44(12):1733-1748.